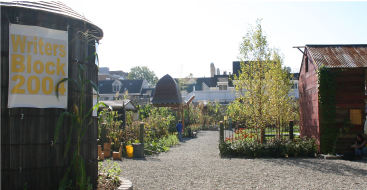 Our very own Doug Raynor was honored with the privilege of contributing his talents to this project! The Writer's Block Garden was conceived by Princeton architect Peter Soderman, who, while passing by an empty lot in the Princeton Borough decided to transform the space into an artistic statement. Bringing the best of Princeton's writers, architects and craftsmen together, the garden was soon filled with unique structures dedicated to artistic impression and paying tribute to several Princeton University professors.


Doug worked to make the vision of Princeton architect M. J. Sagan, AIA a reality, crafting a unique "palleted" structure for the project, which was auctioned off and the proceeds given to charity. "It's important for me to stay involved in the community...I couldn't pass up the chance to give back, both artistically and financially."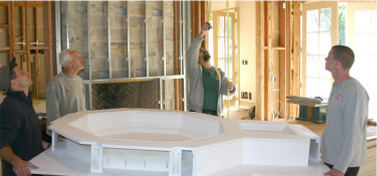 The owners of this gorgeous estate have decided to completely renovate inside and out, and have brought in Raynor Woodworking to handle it all. Our team of skilled craftsmen, mechanicals experts and valued subcontractors are working around the clock to transform every element of this home.


Special projects include unique vaulted and detailed ceiling curvatures, mouldings and arches crafted at our in-house millwork shop, transformed floor plan, entertainment and fitness center and all new mechanicals.

Raynor Woodworking is excited to be involved in this extensive project, estimated for completion in 15-16 months. Check back for photos of the gorgous work as it progresses.